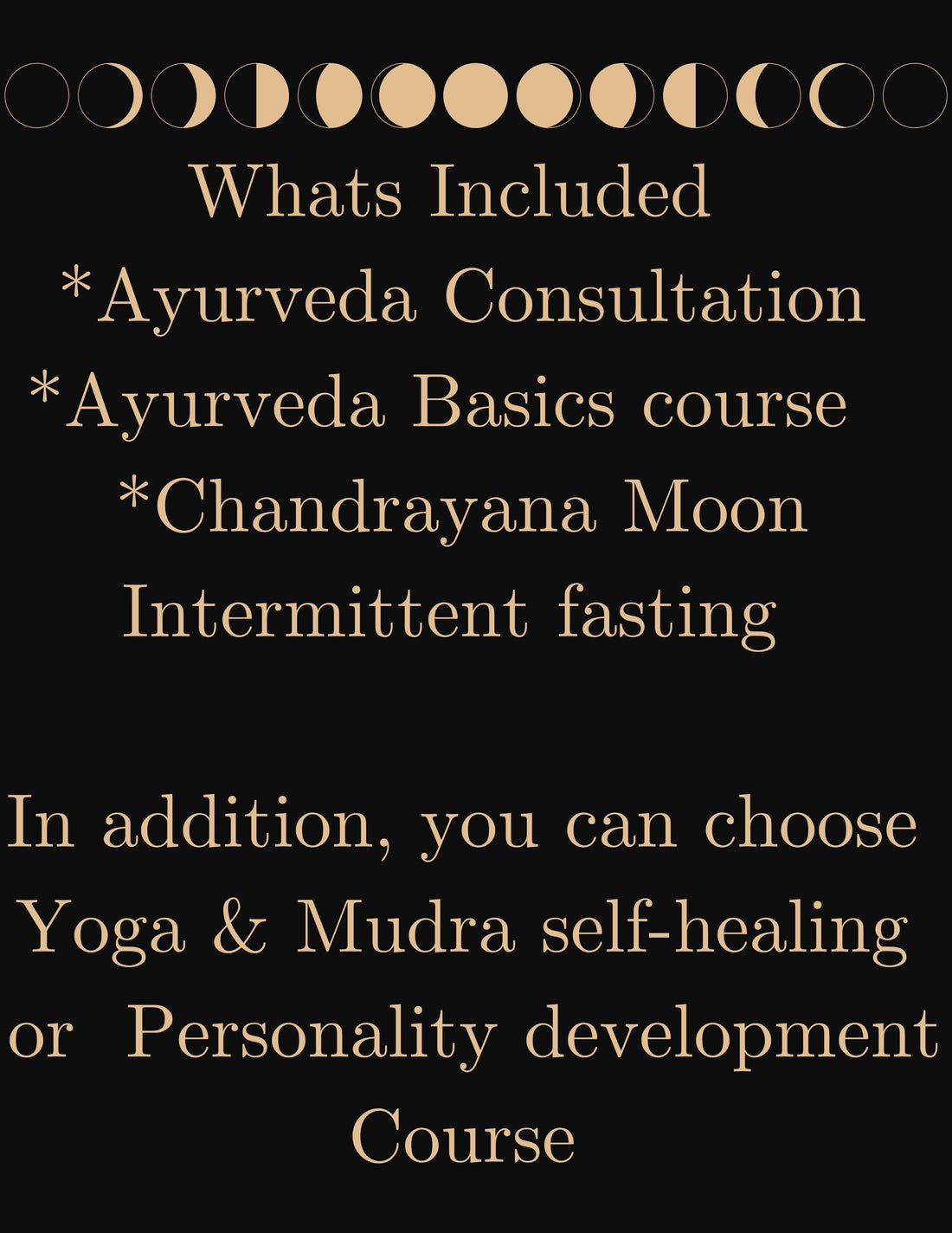 Ayurveda Self - Healing Course (Ayurvedic Consultation included special launch price)
Whats included ?
Ayurvedic Consultation
Ayurveda Basics course
Chandrayana Moon fasting

You have to choose one of the following courses in addition
Yoga and Mudra Healing course or  Self Development
Your Journey to Self-Healing, Ayurveda teaches us how to live a healthy life physically, mentally and intellectually. Join us on this incredible journey.
What is Ayurveda ?
Ayurveda is literally the science of life. This science is eternal and given to us by the Supreme Lord Dhanvantari. Ayurveda deals with all aspects of life, beginning with diet, herbs, meditation, exercise, sleep, work-life and relationships.
What do we offer in the course?
This course is 6 sessions long and will be done over six weeks. Classes will be on weekends via zoom. If you miss a class, we will have all recordings available. We will also having a test in the end to help you remember all that your learnt and to be able to practice yourself after the course. We will also celebrate the knowledge with completion certification for all.the participants.   As you see in the above poster we are offering the following in the course. 

1. Dosha, Prakriti and Vikriti ~ Understanding your nature: We will understand our personality based on Ayurveda, whether we are Kapha, Pitta or Vata dominant, what are the diseases we will be prone to and how to counter them.

2. Foundation of Pulse reading: Ayurveda has pulse diagnosis as an essential tool to self-diagnose; we will dive into the world of pulse reading to diagnose the self.

3. Dinacharya ~ Ayurvedic Lifestyle: Ayurveda gives us a lifestyle based on the cycle of nature, the movements of the sun and the moon. We will journey into the lifestyle of great yogis based on Ayurveda has taught us

4. Healing Meditation: We will begin each session with a healing meditation. Ayurveda is the science of how to detox ourselves physically and mentally. The toxins are called "ama" we will detox physically with diet and mentally with meditation.

5. Ayurvedic cooking:  Our star Ayurvedic chef, Sundari, will take you through a wonderful journey of Ayurvedic cooking in this course. We will understand the right combinations of herbs and spices to benefit the healing process, core of Ayurvedic cooking. Also learn what he Ayurvedic connect of nutrition and diet. 

6. Dravya Gunas ~ Healing Herbs: We will learn how to heal ourselves with herbs. Many herbs are present right in our kitchen but we need to learn how to use it and then make the best out of it. Common home remedies will also be taught as a part of this course. 

7. Pragnya Apradha ~ Mistake of the Intellect: know the cause of your diseases. Learn how you  can uproot the habits and lifestyle that cause the mental and physical diseases. Learn you practice the mode of goodness on the level of consciousness and how it will all reflect on your mind, body and soul.