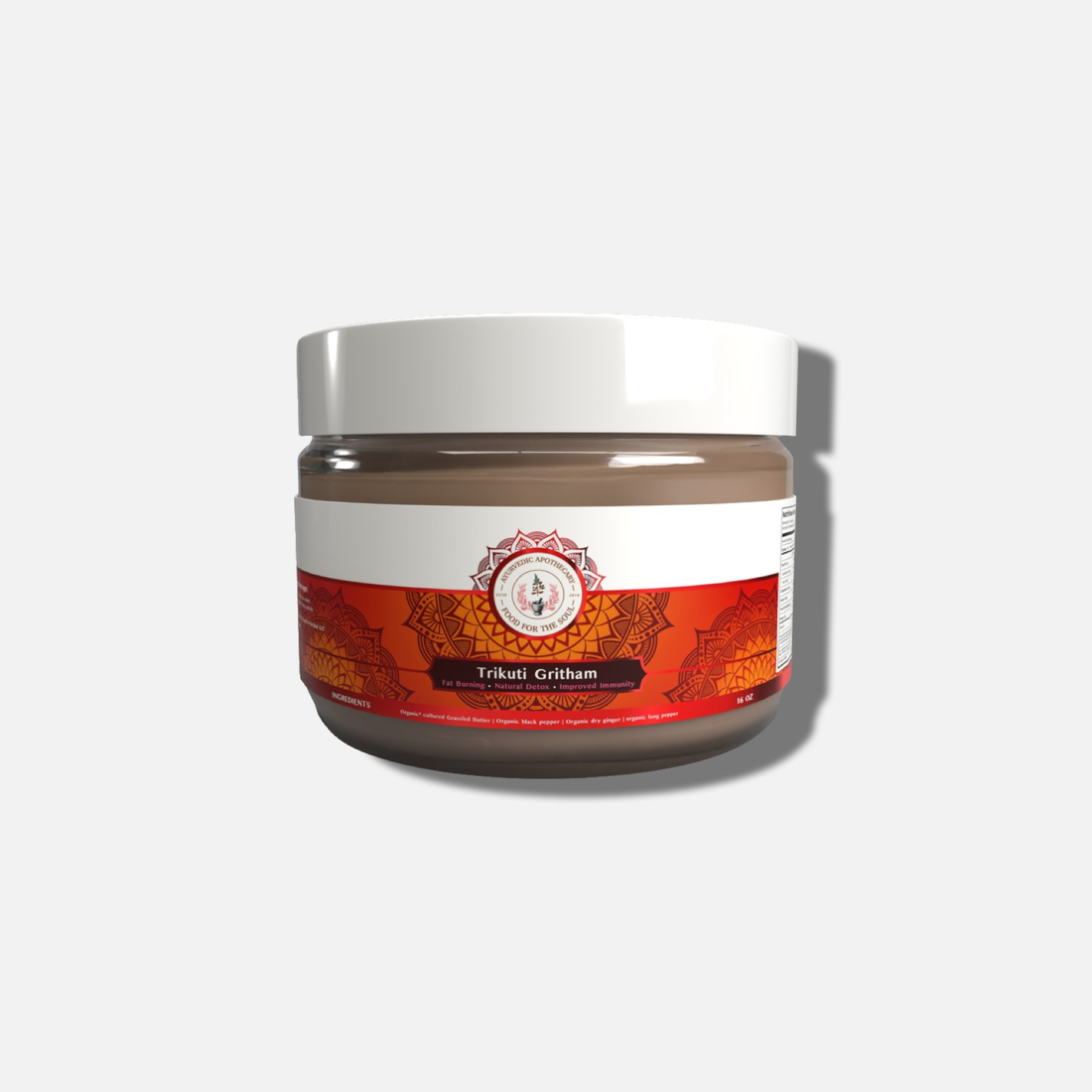 Trikatu Ghritam Cultured Ghee.
Ingredients: organic cultured grass-fed butter, Trikatu (Black pepper–Piper nigrum, Long pepper–Piper longum, Ginger–Zingiber Officinalis)
Highlights/benefits: Enhances brain power, memory, alertness, Improved digestion, and speech. Beneficial for anxiety and stress reduction. The added herbs of Trikatu boost overall digestive health, stimulate appetite and relieve bloating, gas formation in the stomach, and belching
Our source: Our ghee is made from the best organic cultured butter available in the USA, from Strauss creamery. This is a fully certified organic creamery with a butterfat content of 85%. This is cultured butter which means that the ghee is of the highest medicinal quality.
This ghee is made with love by Sundari Dasi who is a highly qualified Ayurvedic chef.
Ghee is known for its rejuvenating properties, ghee balances our nature of Kapha, pitta and vata. This traditional Ayurvedic ghee formulation helps maintain normal cognitive health and mental ability viz, intellect (Dhi), confidence (Dhriti) and memory (Smriti). It helps rejuvenate the mind and helps balance one's sleep and wake cycle. 
This "cultured" or "probiotic" ghee, decreases bad cholesterol and regulates fat metabolism and is the best ghee to cook with. The culture in the butter we use infuses healthy gut bacteria improving digestion and cognition. Ghee is called "deepanam" or a digestive that improves digestion.
Vedic Formula: Ayurvedic Ghee. A traditionally used Medya (a mind rejuvenator) helps support healthy neurological function. Helps maintain normal cognitive health and mental ability viz, intellect (Dhi), confidence (Dhriti) and memory (Smriti). 
USAGE: 0.35 oz. (10 g) once daily, or as recommended by your Healthcare Professional. Quantity: 16 Oz; Item Form: Ghee/Ghritham. 
All Natural Ingredients | Highest Standards of Safety, Purity, Efficacy, & Authenticity | 100% Herbal | No added Fragrance or Color | Chemical & Paraben Free | No Mineral Oil or Petroleum by-products used. 
Disclaimer - Ghee or clarified butter may melt at higher temperatures and solidify at a lower temperature. The quality and effectiveness remain unaffected. There might be slight variation in volume in the solid and liquid form, the quantity however remains unchanged, as the product is packed on the basis of total weight.